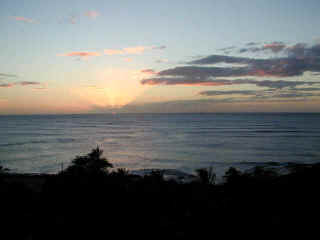 One way to keep from cooking a Thanksgiving dinner and cleaning up after it is to get away to Hawaii. We had all been to Hawaii many times before, but it had been a long time since we had visited Oahu. We had to pull Ben and Craig out of school a day before their Thanksgiving break.
Tuesday November 22nd
We stayed at the JW Marriott Resort about 25 miles west of Honolulu. The hotel had very big rooms and a nice beach, except there a was a jellyfish warning that kept us out of the ocean the entire time we were there. We had a nice balcony for breakfasts and taking sunset pictures.
Ben used a panorama mode on his camera to stitch together a daytime view from our balcony.
Wednesday November 23rd
On our first full day in Hawaii we headed toward Honolulu. Our first stop was at the Arizona Memorial. From there we drove into Waikiki. We were pleasantly surprised at the changes in Waikiki. While it was still crowded, it had not become sleazy or any more touristy than years before. We walked the main street and had a good seafood dinner at a restaurant with a big fish tank beside our table. The later two pictures above were taken at the Royal Hawaiian entrance on the main street through Waikiki.
Thursday November 24th - Thanksgiving
On Thanksgiving day, we started out with calls to my family in the cold northeast and then we enjoyed a brunch buffet at the hotel that seemed to please everyone. We then explored the hotel play rooms and got back up to our room in time to capture some sunset shots.
Friday November 25th
On Friday we took a short drive to Hawaiian Adventure Water Park, a park filled with waterslides. Everyone was tired and waterlogged, so we headed for dinner and an evening to plan for the next day.
Saturday November 26th
On Saturday we took a drive across the island to visit the Polynesian Cultural Center. Mary Lou and I had visited the center many years ago. Ben and Craig thoroughly enjoyed the day and felt it was the highlight of the trip.
Sunday November 27th
We only had the morning before our flight back to LA, so we spent the time around the beach and the pool. Despite flying on the busiest day of the year, we had no difficulties at all getting home.